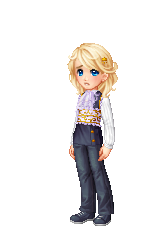 Vicky's Hair Salon sells hair in different colours and styles than those available to use by default. Hair can be equipped and sold like normal items.
Available Styles
Allore
Beach Bum
Bob
Book
Breezy
Dari
Dolly
Dreadfalls
Dreamstar
Empire
Fair
Flat
Flip
Flow
Grunge
Hawk
Helmet
Hime
Honey Pot
Hoshi
Jeannie
Kei Hawk
Loveit
Mane
Neigh
Pixie
Plait
Posh
Punk'd
Rapunzel
Shaggy
Slick
Slick Hawk
Stereo
Strife
Sundae
Swag
Taiyo
Tempest
Tsuki
Twist
Wave
Wildfire
Ad blocker interference detected!
Wikia is a free-to-use site that makes money from advertising. We have a modified experience for viewers using ad blockers

Wikia is not accessible if you've made further modifications. Remove the custom ad blocker rule(s) and the page will load as expected.